The racing format we've come up with has been very successful and gives those a chance without the latest and greatest gear to claim a victory!  SO we're sticking with what we know works.  There will be multiple racing classes:  
-Men's open class:  There is no sail size limit, so bring the biggest, fastest thing you can find and go crazy!  There are usually a good number of sailors entering the open class, so be sure to get ready for some competition. 
-Men's 7.5 limited:  This is by far the most popular and therefore competative class.  The biggest sail you can use in this class is a 7.5 meter sail. 
-Women's:  You're limited to a 7.5 meter sail in the women's class as well.  
-Juniors: If we've got enough under 18 (at least 3) then we'll run a junior's division too.
Scoring for the racing will be on a point system. In each race, the first place sailor will get .75 points, 2nd place, 2 points, 3rd place 3 points, etc.  At the end of the competition, the sailor with the lowest amount of points wins!   Although all sailors will be on the water at the same time, each class will be scored individually.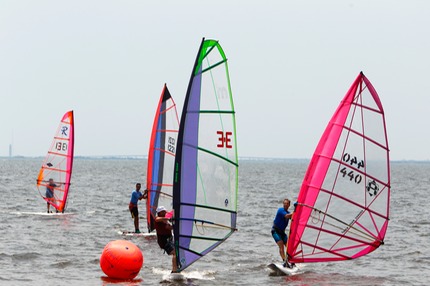 The top three are battling it out in slow motion to the final mark!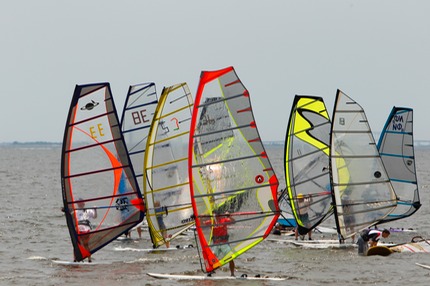 A light wind start to one of the races at last years ECWF.  Don't be fooled!  It's harder to get a good start than you think!  There are over 50 people just out of the frame looking to get in front of the pack leaders.